"

Viking Heimdal" River Cruise Ship
Cabin No. 338 Review
After a river cruise, with another Cruise Line, had fallen through because of a sudden price rise (a £200 per person price increase due to London to Paris return flight costs rising due to Brexit we were told????) we were rather disappointed. However, the Travel Agent rang us a week or so later to tell us that she could offer us the last cabin on an Avignon to Lyon cruise aboard the "Viking Heimdal", but we would have to make an instant decision as she had Viking Cruises on the other telephone line. After a very brief discussion Chris and I decided to accept the offer.
The cabin that we had been offered was a River View Cabin, No, 101 (yes, room 101!) amidships on the starboard side of the bottom deck. What we had not realised was that the ship's lift only went between decks 2 and 3 and so we would have to use a flight of stairs. This was disappointing, but not too much of a problem. However, just a week or so before the cruise, Chris developed a very sore left knee (as yet undiagnosed) which made getting up and down stairs very difficult and painful.
When we first boarded the ship I enquired from the ship's Hotel Manager Chris Harrington and Veronika Etenyi of Guest Services if there had been any late cancellations. They had not, but appreciated the problems that my wife Chris would have with the stairs and promised us that if a cabin on decks 2 or 3 became available it would be made available for us.
That evening, after dinner, Chris Harrington advised us that they had received a last minute cancellation and we could transfer to cabin No. 338. We were extremely grateful to Chris and Veronika and they made the cruise so much less painful (and therefor more enjoyable) for Chris.
The "Viking Heimdal" was built in 2014 and so is a very modern ship with well thought out and designed facilities. Cabin No. 338 is a French Balcony (Class C) aft on the port side of deck 3 (the highest residential deck). Although a little smaller than the cabins that we have been used to on the sea-going ships, the superb design ensured that its functionality was not impaired.
View of the corridor from our cabin
Our cabin door
The cabin is accessed by touching the door lock with the sea pass type cards issued by reception when first boarding. On entering the cabin the ensuite bathroom is directly on the right with a double wardrobe on the left fitted with hanging space with plenty of hangers on the left side and shelves with a large electronic safe on the right side.
Inside our cabin.
Beyond the wardrobe was a useful work top that ran to the side of the ship and had a drawer unit and refridgerator below it, as well as a stool so it could be used as a dresser, with a large mirror above. Also above the work top was a large 40" flat screen TV with news, weather and information channels as well as 'on demand' movies etc. Two audio guide handsets and their charger were on the work top and were used for all excursions. Each excursion guide had a 'paddle' with a unique number on it and we synchronised our handsets with the paddle by touching it until the hand set vibrated. This ensured that the only dialogue we heard on excursion was by our particular guide. Over the ear earphones were provided but we used our own headphones which we preferred. There was also an ice bucket in the room, with an ice machine available in each corridor. There were no tea or coffee making facilities in the cabin, but we were not far from a coffee/tea station.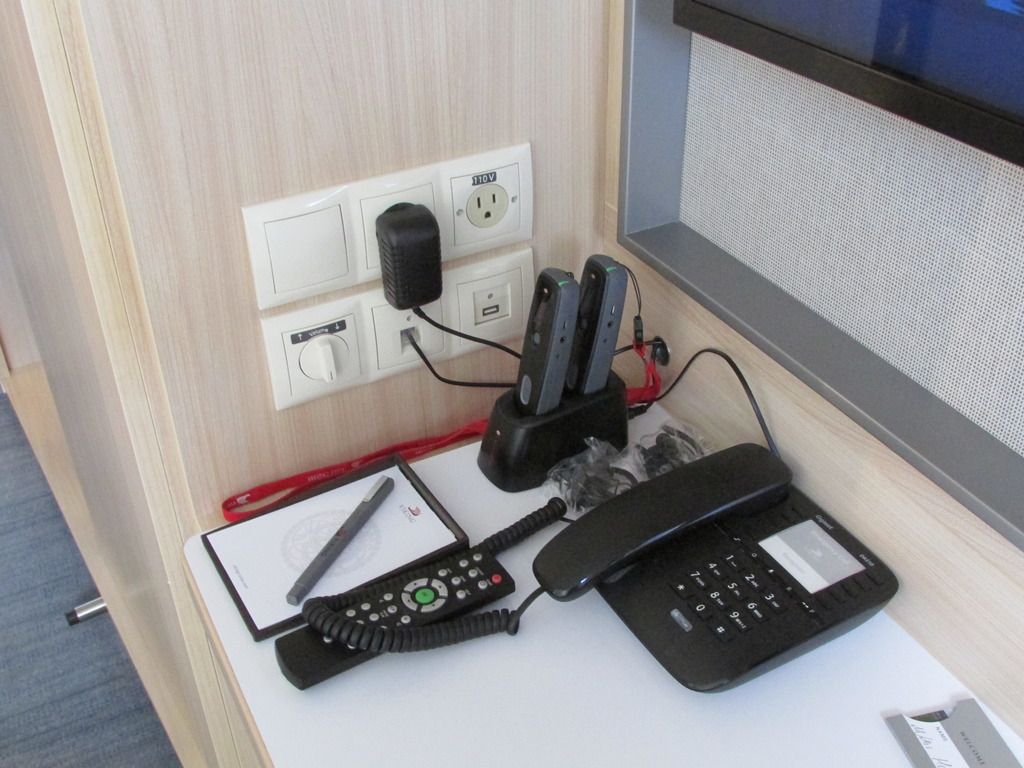 This shows our audio devices in their charger and some of the ample power sockets
The bed was king sized and, whilst it could be set up as twin beds, we had it set up as a large double. Our suitcases easily fitted under the bed, which was also the location of the life jackets that were provided. We did not find the pillows to be particularly to our comfort, but they were not uncomfortable and I am sure that other people would have found them fine. A very very small negative in what was a really good cabin.
We had a large patio style UPVC French Balcony door that opened up to admit fresh air and a fixed wooden rail with a glass panel below it ensured that we could enjoy the views safely.
A photo showing the patio door of our French balcony
The lighting in the cabin was extremely good, using LED downlighters and no less than two lighting sources for reading in bed, one a shaded light and the other a small downlighter. Power wise we were spoilt with no less than 8 power sockets – a mixture of German schuko 240V sockets and American 110V flat pin sockets – as well as a dedicated USB socket.
The bathroom was an absolute delight, with a long shower enclosure with 2 glass doors, a vacuum w.c. and a small washbasin. The shower fittings were very high quality, made by 'Grohe' and once set we did not need to change the settings for the rest of the cruise. There was a 110V shaver socket in the bathroom, for once at a level that was within easy reach. Freya shampoos and lotions etc. were provided and replaced as necessary.
View of the shower room, you can see the glass doors of the large shower reflected in the mirror
Another view of the shower room showing the lovely fluffy towels
But what made the bathroom really special was that the floor and mirrors were heated. Stepping out of the shower was a delight and the mirrors did not mist up and remained clear, even during a long hot shower!
Our cabin attendant Michaela kept our room spotless and was very quick and efficient, always servicing the room whilst we were dining or on shore. The cabins were well sound insulated and we were never bothered by external sounds except when the equipment on the sun deck above us were being flattened for low bridges – but this was only during the daytime and just a couple of times during the cruise. There were very few in-cabin announcements, mostly to advise us that the coaches and guides were ready for our excursions, but we had an off/on/volume switch in the cabin should we have decided not to have them.