Deck D forward port side
image courtesy of P&O
CABIN and storage
Cabin 30 feet x 8.5 feet.
a large cupboard (double width) with 5 shelves
Large hanging space , no doors
4 small drawers and 1 small cupoard near the bed
0hHis cabin is very long and narrow and rather like living in a tunnel. Seperate sitting area with 3 seat settee, bed, chair and coffee table, kettle and tea/ coffee making facilities re supplied.
It also benefits from 2 TVs , one facing the bed ands one facing the seating area. Though whether you could have both on , on different channels and still have good audio for each viewer was one experiment too far for me.
The cabin does however come with some "goodies"
courtesy of the P&O web site
Special touches:-
Mineral water on arrival, Luxurious pamper pack,
Bathrobe and slippers, Atlas and binoculars,
Flowers, champagne and chocolates on arrival, Fruit bowl,
Canapes once a week and a selection of magazines.
Size: Approx 317 square feet (including balcony)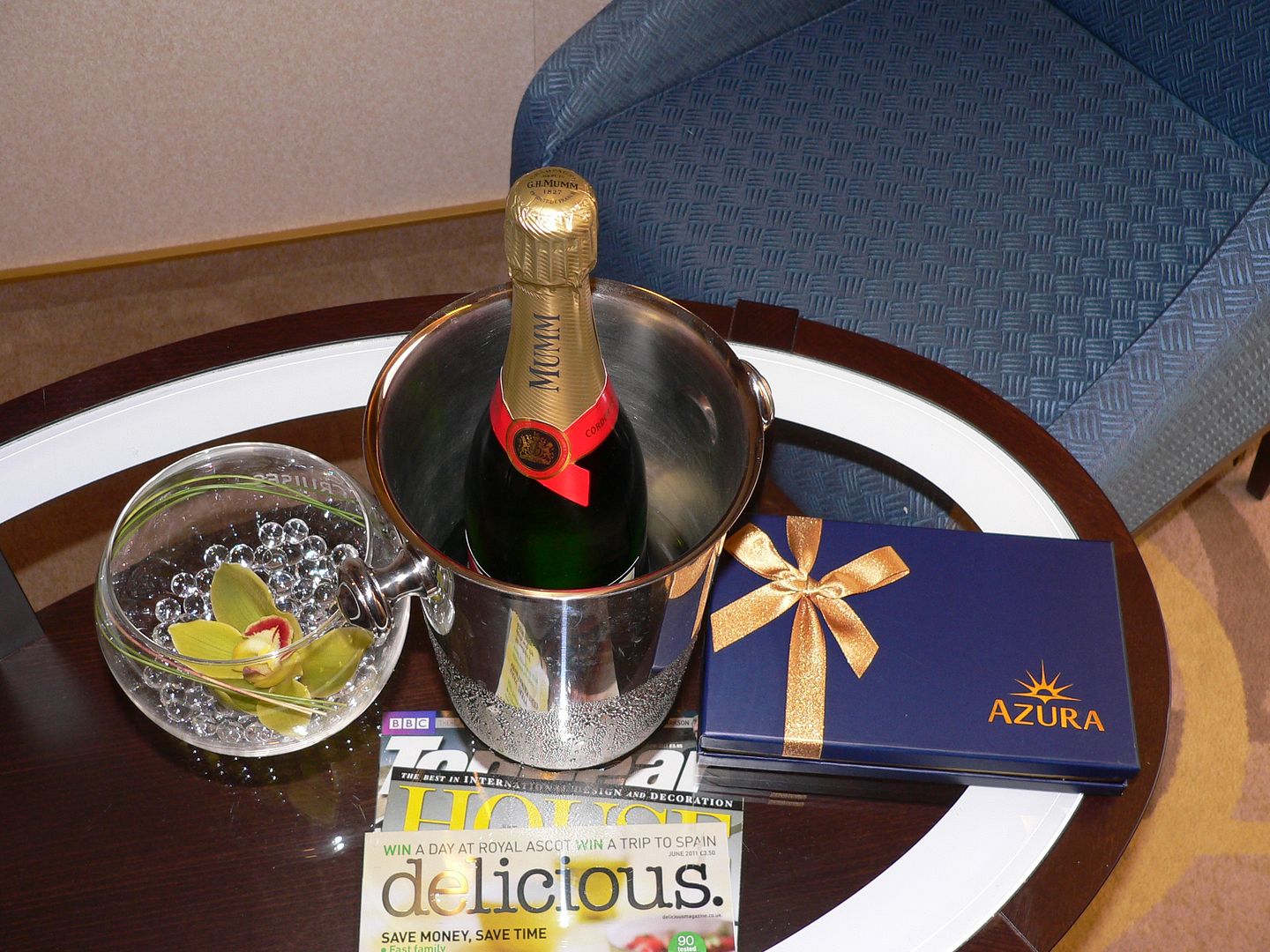 the Flowers, champagne ( Moet & Chandon), the chocolates and magazines
from the door
from the balcony end
Tea & coffe making facilities
BATHROOM
Bathroom 6 feet x 5.5 feet. fitted with a bath with shower over. Nothing more than a standard bathroom (NO IMAGE , SORRY)
BALCONY
completely over looked from above.
2 chairs,2 footstools, small coffee table
THe major drawback to this type of cabin is that the balcony, although an acceptable size, is completely overloked from above, having no roof area at all
The completly overlooked D deck balconies are uppermost in this view from deck 14
also in the picture are the C deck balconies (twice the size of our balcony, The balconies with the gent holding an umbrella) showing the outer (open) half . They do have an equal area under cover .