The Western Med – Cruise A619
Ex Southampton 22nd July 2016 onboard Azura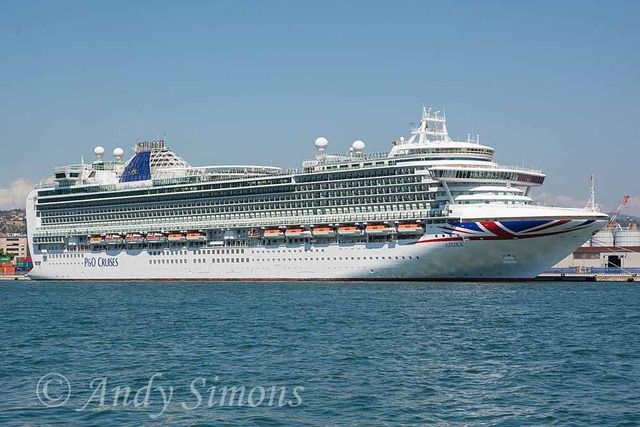 As previously, we had opted to drive down to Southampton and stay at the same Premier Inn. Unfortunately, this time the drive was not straightforward (M1, M25, M3) as road works and congestion on all three motorways saw us arrive in Southampton at 17.30 having taken three and a half hours instead of the usual two hours and ten minutes. We had checked in online so were soon in our room and not long to wait until dinner.
The following morning, after breakfast, I repacked the car and we left at 10.45. Our check in time was 15.30 but as there were five ships due to depart we took the view of preferring to be at the terminal and having to wait, rather than competing with everyone else on the road.
We had free parking at the terminal and once all the documentation was complete, made our way into the building and to the Assisted Boarding area where we waited until they were ready for us. Boarding began at 11.30, we were called just after 12.15 and ten minutes later we were on the ship. We were taken to Verona for a buffet lunch and at 13.00 an announcement was made that all cabins were now ready.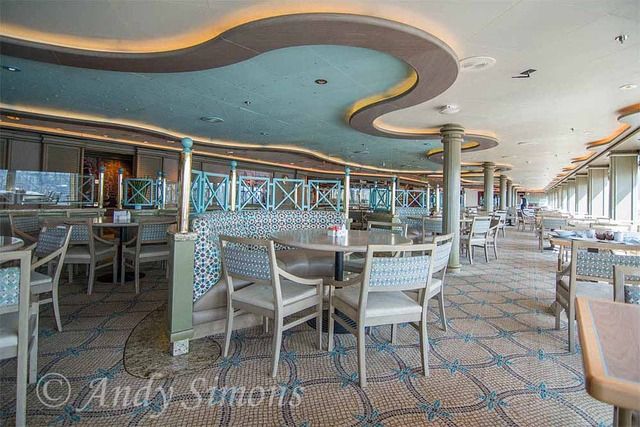 I had seen photos of Azura and was well aware that she was a large ship (3000+ passengers) but nothing I had read had prepared me for how big she actually is and how ugly I thought she was. She looked to me as if someone had taken a knife and cut a slice from her rear end.
Once we had found our cabin using the little map provided (I was able to dispense with that on Day 10), we explored a little before Muster and then sat outside on the Prom as we followed Ventura out of Southampton.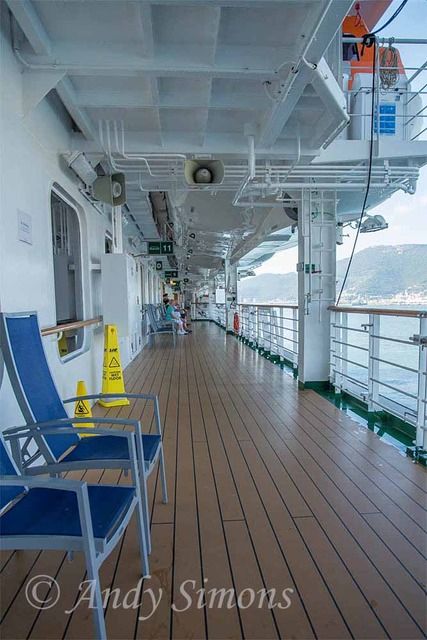 I have already reviewed our cabin but forgot to mention Rose, our steward, who was lovely. We also met with her boss, Mary, (Deputy Manager, Housekeeping) who called on us from time to time to make sure we had all that we needed.
There are three MDRs on Azura. Two are used for 'anytime' dining whilst the Oriental Restaurant was for fixed dining which is what we had opted for. Throughout our cruise, the food was excellent and the service faultless. We hadn't realised when opting for fixed time dining that The Oriental restaurant could only be accessed by the lifts and stairs at the back of the ship. In order to avoid crowds going to either the Theatre or the bars, we found the easiest way for us was to take the lifts down to deck 7, walk outside along the Prom Deck to where the aft lifts were situated and then take the lifts down to deck 6 where the restaurant was situated. We did consider asking to be switched to one of the other restaurants but we were so fortunate to be seated with a lovely family of four so decided to put up with the inconvenience of it.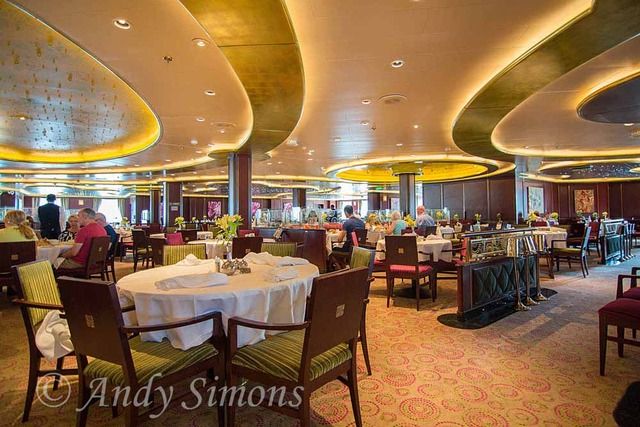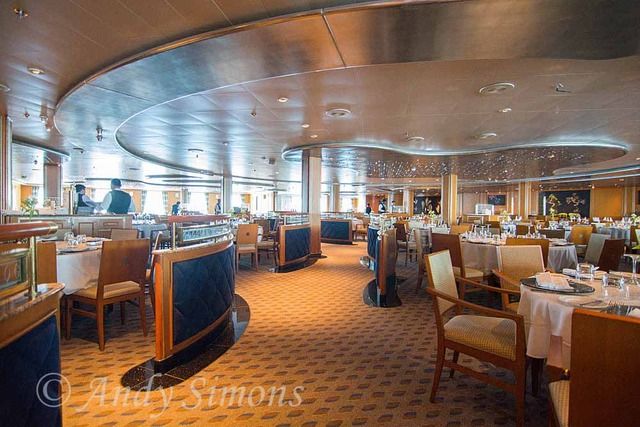 The Peninsular Restaurant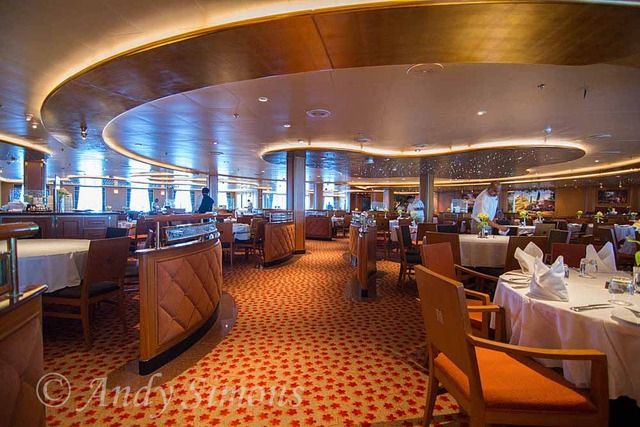 The Meridian Restaurant
After dinner we sat in the Malabar listening to a singer before making our way to The Glass House which was quieter and where we could be found every night after dinner.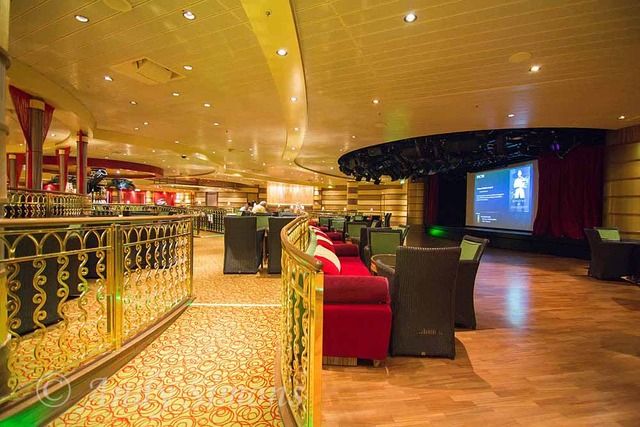 Malabar, showing ramp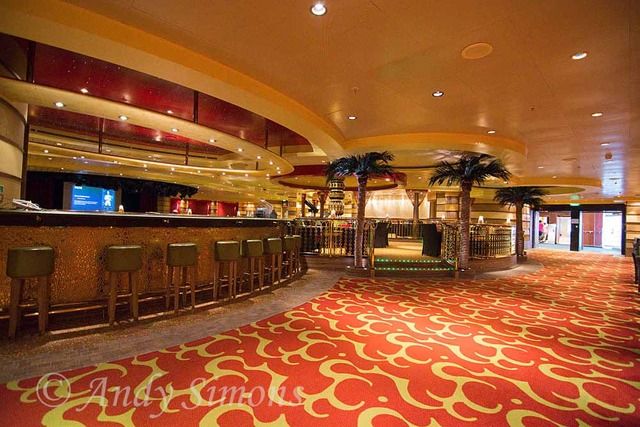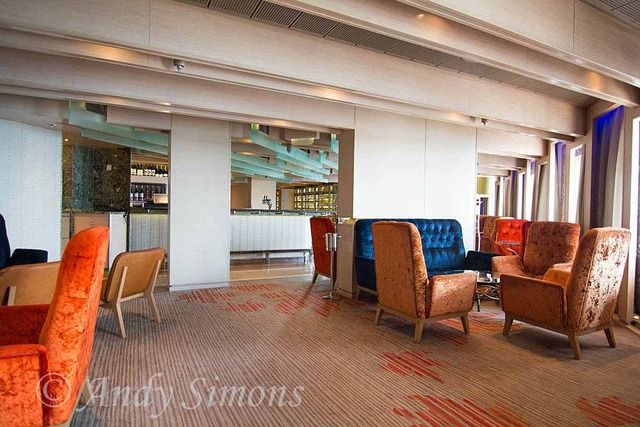 We had two sea days before reaching Gibraltar which gave us some more time to try to find our bearings.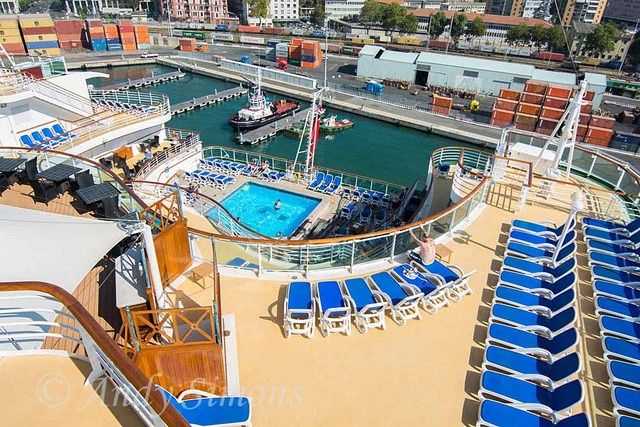 The Terrace Pool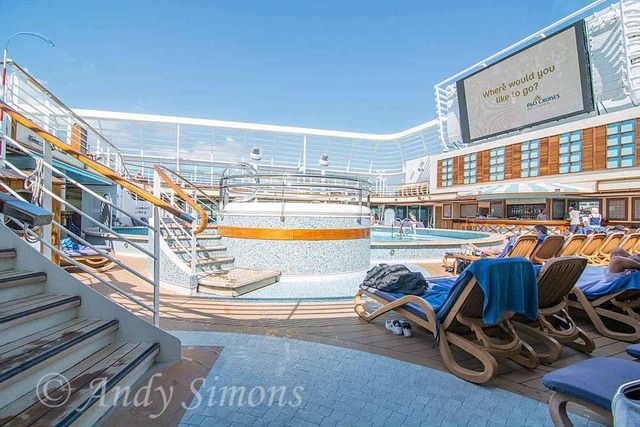 The Sea Screen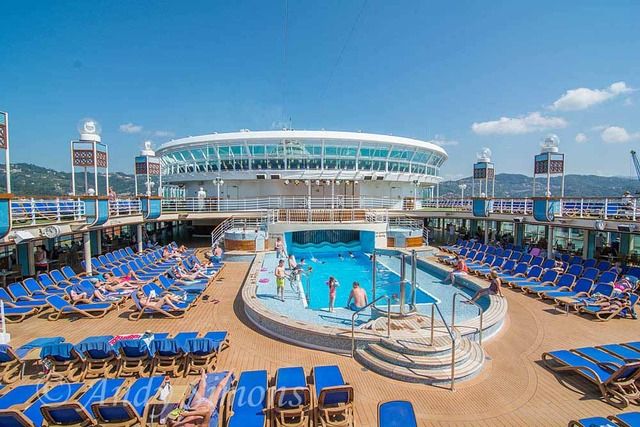 The Coral Pool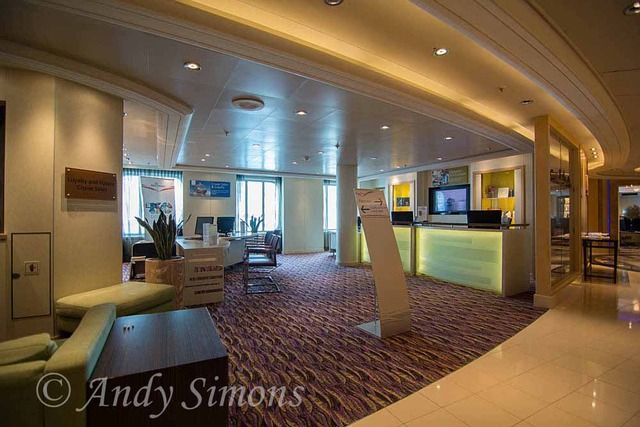 Shore Excursions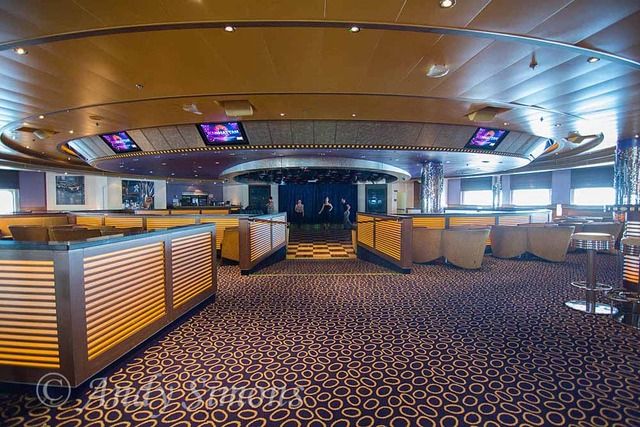 That afternoon, we really did think we had made a huge mistake in booking Azura and we spoke about future cruises being made only on much smaller ships. However by mid morning of the next day we were starting to have a change of mind. I think it may have been to do with starting to find our way around, chatting with some very nice other cruisers and staff being there and offering help whenever I appeared to be lost. And it is so wheelchair friendly.
On the second sea day, I did manage to embarrass myself by trying to break into someone else's cabin. I had left Andy outside on the Prom Deck whilst I returned to our cabin. I pressed the button for deck 10 and got out at what I thought was our deck. Strange thing was the scanner wouldn't accept my card when I tried to swipe it. A man's voice behind me said that he thought I had the wrong cabin. I replied that my cabin was C304 and it says 304 on this door. To which he replied that the cabin was E304. Profuse apologies and a hasty retreat from me.
We had all our meals in the MDR or popped up for a pizza or baguette and fresh fruit from the Grab & Go at lunch time, so I can't comment on the speciality restaurants. There was also plenty to do, if you wanted to, during the evenings and sea days. This was a Strictly themed cruise so dresses used in the show were to be located near the atrium, shows were held in the theatre, master classes for adults and children as well as Q & A sessions were also held. The dancers were also seen around the ship, talking to passengers.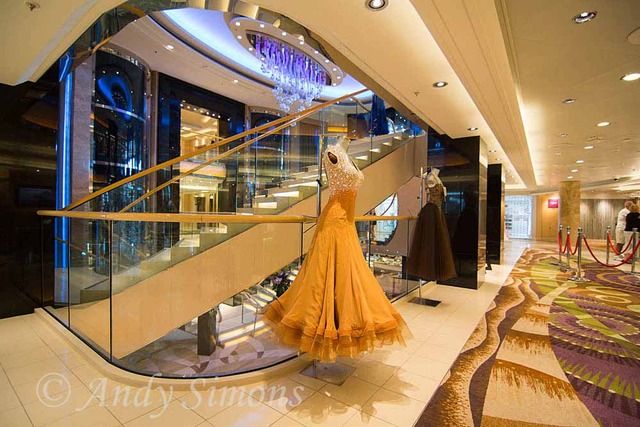 Dresses from the Show displayed around the Atrium
This cruise was full including 500 children on board and the little people we came across were delightful and very well behaved. However, there was a problem with a minority of teens. Our dinner companions, two of which were aged 18 and 21 told us of some of the teens thinking it ok to make a mess in the buffets in the late evening/early morning by throwing salt, pepper and sauces around including deliberately pouring them onto the carpets. The entire ship was also woken up on four separate occasions at 3am, 4am, 5am and 6am on different days by The Bridge giving out the name and cabin number of individuals and telling them to contact reception immediately. When this was coupled with no engine noise and the realization that the ship had stopped, we really did think, as did others we spoke to, that someone had fallen overboard. We found out later that it was a boy that had decided to stay in someone else's cabin and his parents had reported him missing. We certainly didn't have a problem with personnel from the ship doing what they had to do to try to locate someone missing, but this was not a one off as it happened three more times caused by one or other of the occupants of two particular cabins. These are just a couple of examples.
So what do we think of this ship now? From initially thinking we had made a big mistake, after five days we were smitten with her. However, if this had been a short cruise of four days we would have left this ship thinking never again! I still think she is not very pretty to look at but we came to like this ship very much; Azura is very wheelchair friendly, easy to get around and we had a wonderful time. The only difficulty we found was getting into the theatre as the ramp is quite steep and requires a second person to push the user up it. We can't wait to sail on her again.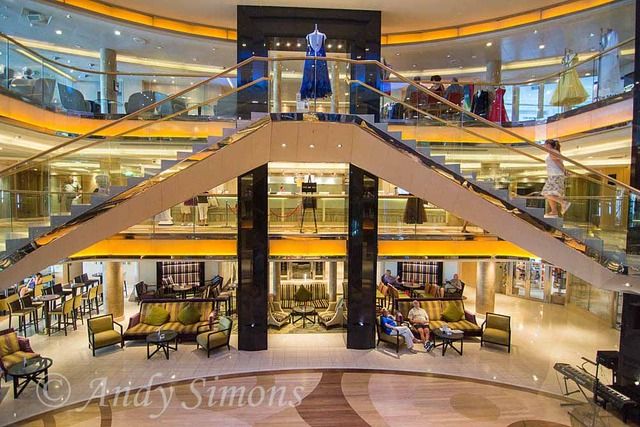 The Atrium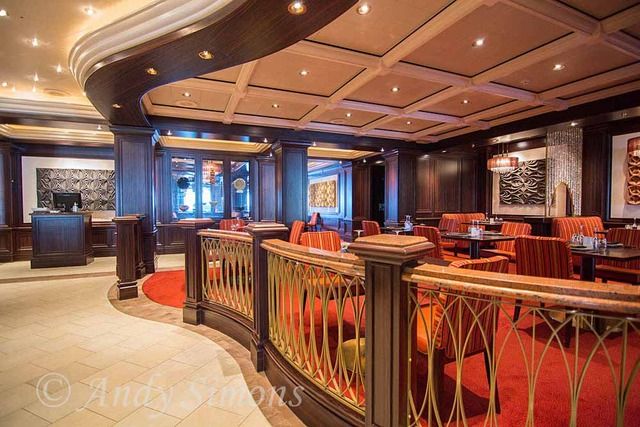 Sindhu Restaurant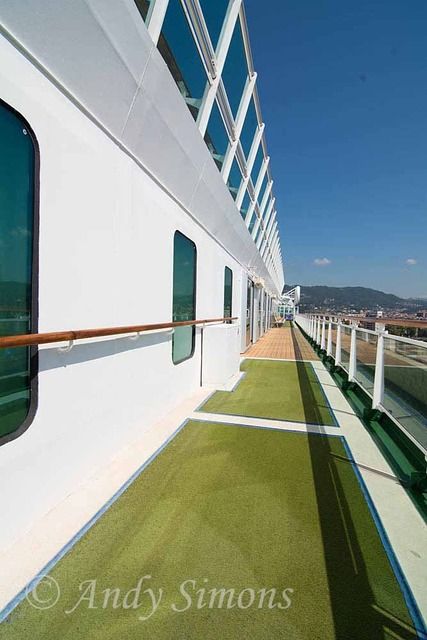 Deck 16, outside
I forgot to mention about the number of people that would come up to ask and begin with, 'I hope you don't mind me asking, but I have a friend who is in a wheelchair.............'
P & O, we should be on a commission.