Voyages of Discovery "Voyager" Inside Cabin No. 3303 review
Chris and I had booked the 13 night "Mediterranean Reflections" cruise through our friends at 'Cruise Select' on an Inside Cabin guaranteed basis and, as such, did not discover which cabin we had been allocated until we received our joining instructions approximately two weeks before the cruise.
The Cabin
We were very happy with the position of the cabin which was amidships on deck 3, with a cabin on one side of us and the 'Guest Relations' and 'Shore Excursions' area on the other. We had cabins above us and below us and, despite some previous reports of poor soundproofing on this ship, we ourselves experienced very little or no external noise. On all but two of the ports we visited the gangway was positioned on our deck, in the 'Guest Relations' and 'Shore Excursions' desks area, so was just a few yards from our cabin.
The cabin, at just 120 square feet, was the narrowest cabin we have ever had on any modern cruise and we had the beds made up as twin beds as a double bed configuration would have involved one side of the bed abutting the cabin wall. Between the twin beds we had a single bedside unit with one deep drawer and a shelf and a single bedside table light which gave ample light for reading to both sides. The beds were fitted with duvets and had a counterpane during the day. The pillows were plump and very comfortable and additional pillows were available if required in the wardrobe unit. We were able to store our two large suitcases out of the way under the beds. The use of large mirrors in the cabin made it appear much larger than it actually was.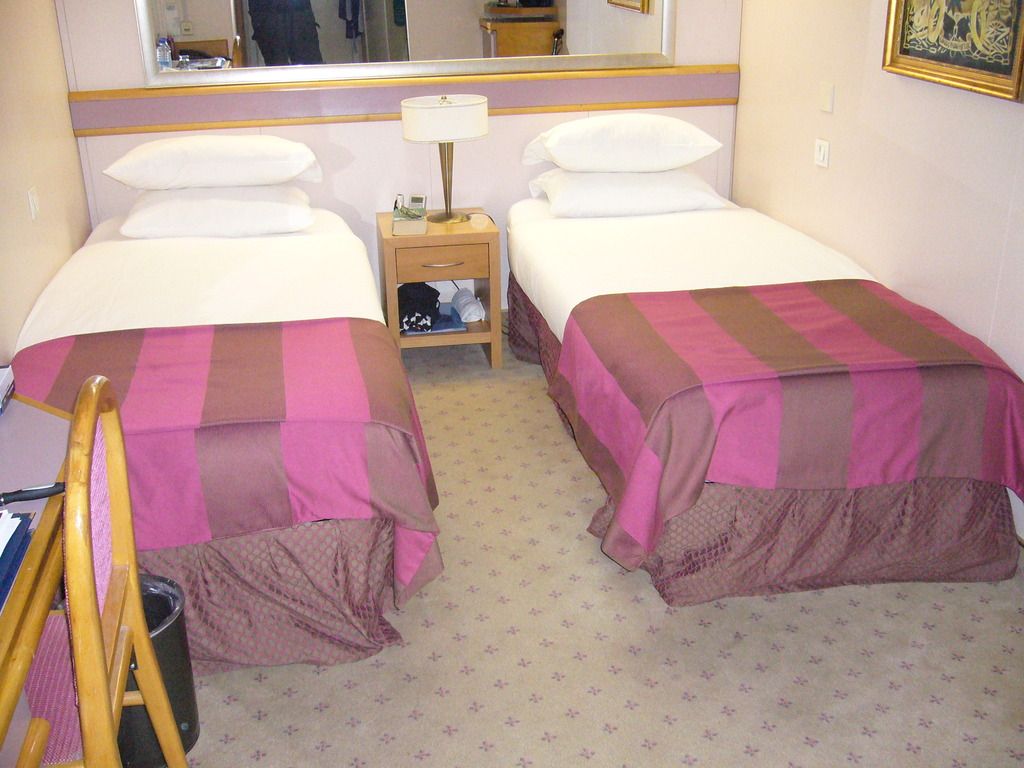 The cabin made up for day use......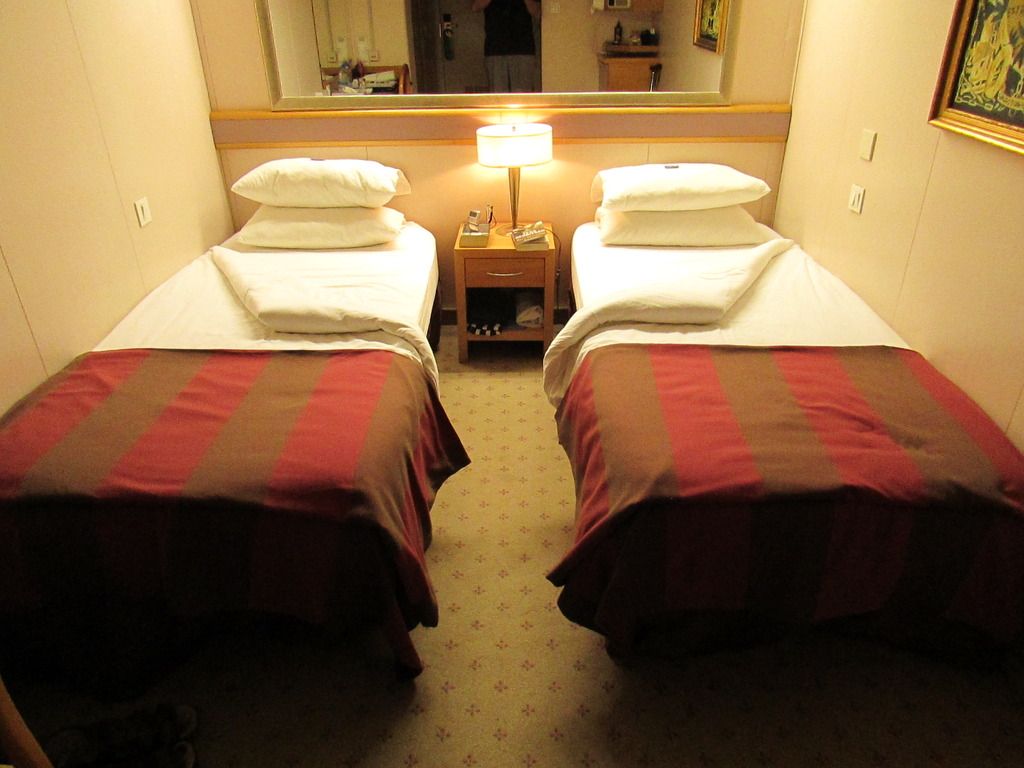 ....and made up for night use (note chocolates on pillows!)
There was a writing desk with four very shallow drawers and a chair which slid under the desk when not in use. Alongside the desk were two power sockets, one a 230V UK 3 pin type (a first for us) and the other a 110V 2 pin earthed American type. Neither socket had any indication of voltage which surprised me. There were two 500 ml bottles of mineral water on the desk and, if used, a charge of just 70p per bottle was charged to our account which we thought was quite reasonable. A telephone was also sited on the desk.
Opposite the writing desk unit was a single chest of drawers unit with 4 very deep drawers and above it a two shelf storage unit with another power socket, this time a 110V 2 pin non earthed American type. Alongside this shelf unit was a flat screen television with an excellent quality picture that could be viewed from the beds. Channel 21 of the television was our 'window', showing the view from a camera mounted on the bridge, looking forward.
We were very impressed with the quality of the programmes available on the television, they were much better than on the more modern ships we are used to. Besides a movie channel there were channels showing the on-board lectures, a channel showing the relative position of the ship on a map (together with GPS details and distances covered etc.) whilst another channel showed continuous repeats of the port lectures for the following day's destination. A documentary channel showed an extremely interesting series of films entitled "The Great Liners" which traced the history of liners and cruise ships and had some fascinating archive footage. Some of the footage was taken aboard the Union Castle ship "Edinburgh Castle" that Chris and I sailed on from Southampton to Cape Town on in 1972, so I will try and purchase a DVD of this film. There was a distinct lack of 'hard sell' programmes on the television which we found to be very refreshing.
Opposite the en-suite shower room there were two very well designed and spacious wardrobe units, each with full length hanging space with plenty of hangers and shelves on the side of each unit. One of the shelves had a key operated safe and a deposit of £25 was charged to our shipboard account, but this was refunded at the end of the cruise when we returned the key to 'Guest Relations' desk. Our lifejackets were stored in the top of the wardrobe unit, as were the spare pillows.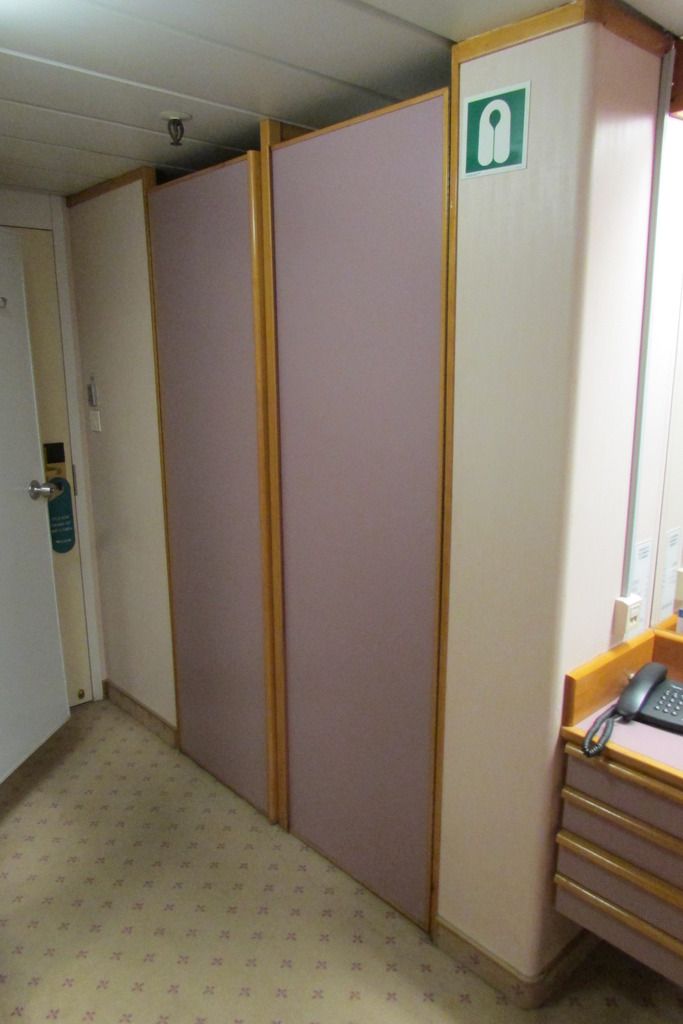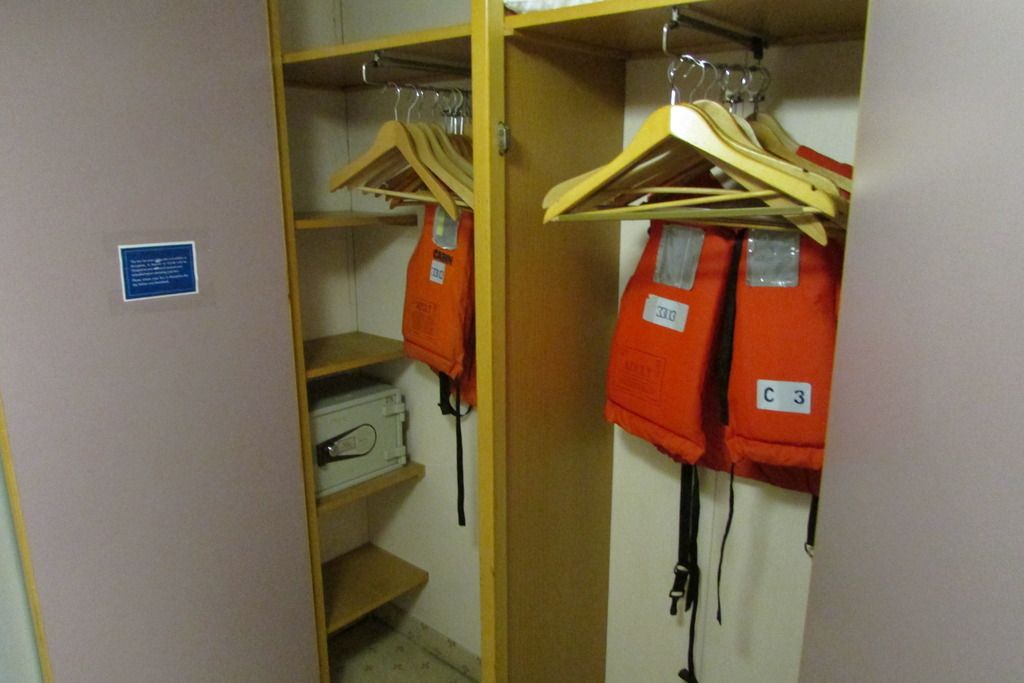 Both wardrobes had shelves as well as a reasonable number of coat hangers.
Although when booking in at the Terminal building in Istanbul we had been issued with a credit card sized plastic 'Sea Pass' (for going in/out through security and making on-board purchases), unlike other ships this did not act as a room key. We each had separate cards for opening our cabin door and these cards were quite long and thick with perforated holes. Having to carry a 'Sea Pass' card, a door entry card and the safe keys was a bit of a nuisance, but the "Voyager" is a rather old ship, so you can expect one or two inconveniences.
We did notice that the outside cabins on decks 2 and 3 of the ship had just two portholes (the outside cabins on the higher decks had windows). These portholes were rather high and smaller people, like Chris, would not have been able to see out of them without standing on the beds!
En-suite Shower Room
Although generally very happy with our cabin, we found the shower room to be extremely disappointing. It started off well with a larger than average wash basin set in an artificial marble unit with storage room underneath and a large mirror above it. At the side was a rather old fashioned wooden storage unit with plenty of shelves and a selectable 220V/110V shaver socket at high level.
The w.c. was the usual vacuum flush type but had the flimsiest plastic folding seat that we had ever experienced. It was made of very soft plastic which slipped to one side when sat on by all but the lightest people, sometimes pinching the cheeks of the user (sorry to be so graphic!). We had the seat replaced with a brand new one but this was just the same and the plumber who fitted it told us that all seats were like this and they were clearly a cause of many complaints.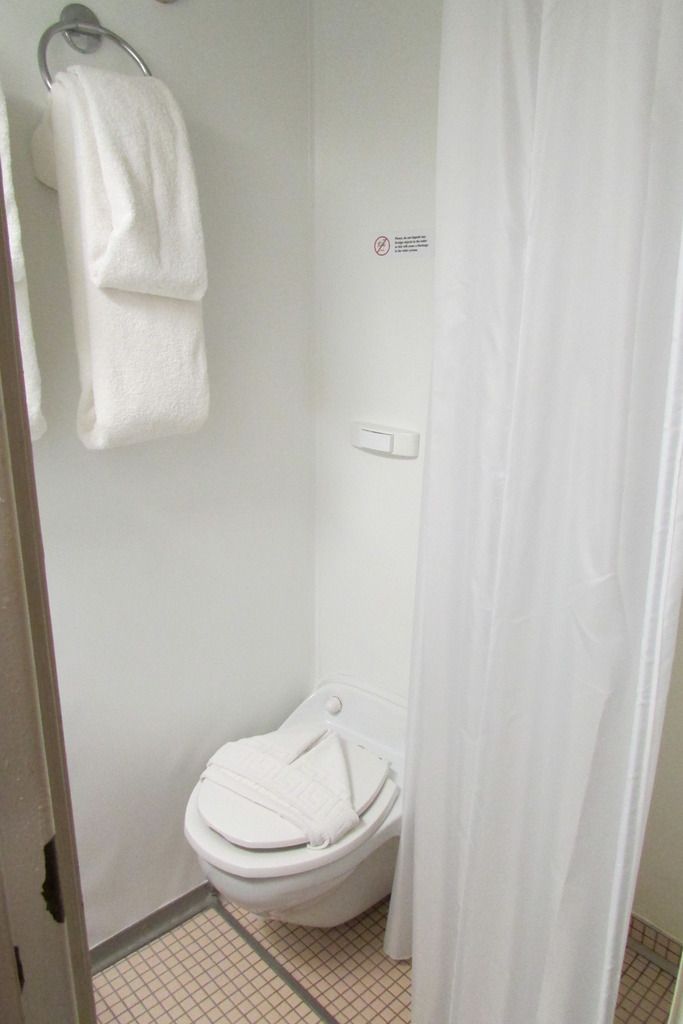 The shower unit was the smallest we have experienced on any ship and had a plastic curtain, although the curtain contained four vertical thin plastic rods that helped stop the curtain being drawn in on the user. It would have helped if the curtain had been attached on one side as I found that in turning around in the shower, being somewhat generously proportioned, I often pulled one side of the curtain away from the side.
Whilst a could forgive a small shower compartment, what was unforgivable was the positioning of the shower control unit. The single lever control (in/out for off/on and volume and up/down for temperature) jutted out into the tiny compartment and, each time I turned around in the shower I either switched the water on or off or adjusted the water temperature. It was a diabolical choice of control for such a small shower and the positioning of it made it even worse. On more than one occasion I stepped back slightly whilst towelling myself dry and switched on the shower, spraying myself with water again. This arrangement must have been standard throughout the ship as many passengers mentioned it to us. One lady told us that she did not use the shower curtain at all and used the shower room as a wet room.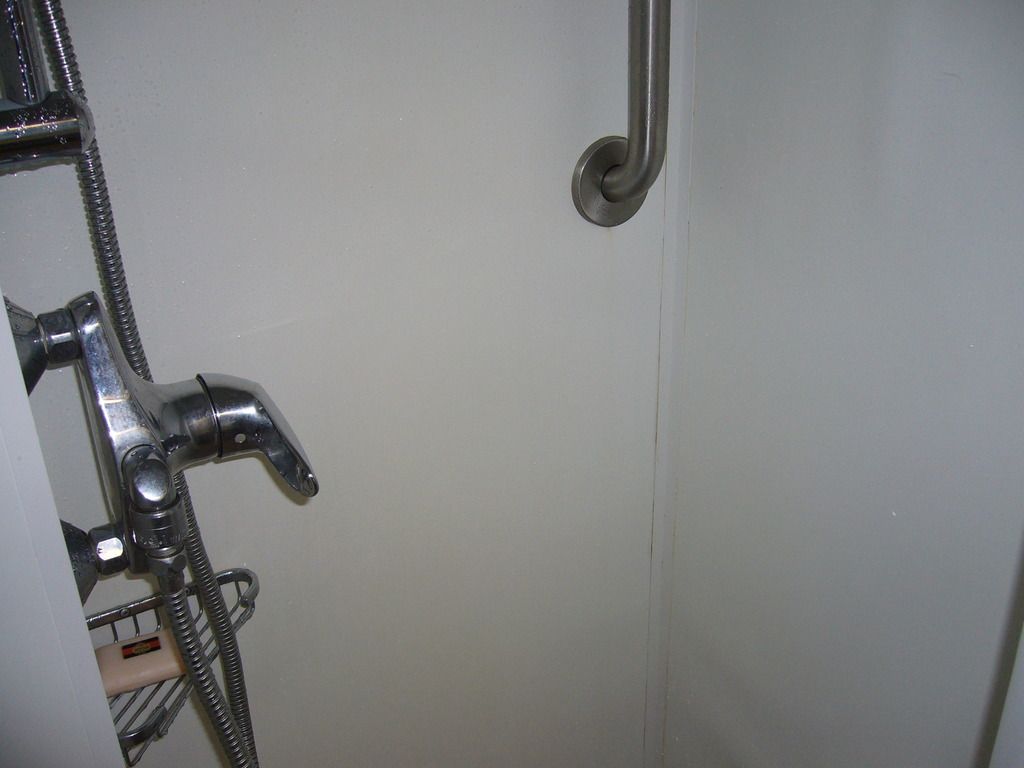 There was a pull-out washing line in the shower room but, very bizarrely, this was not positioned above the shower cubicles so wet swimwear etc. dripped down to wet the tiled floor.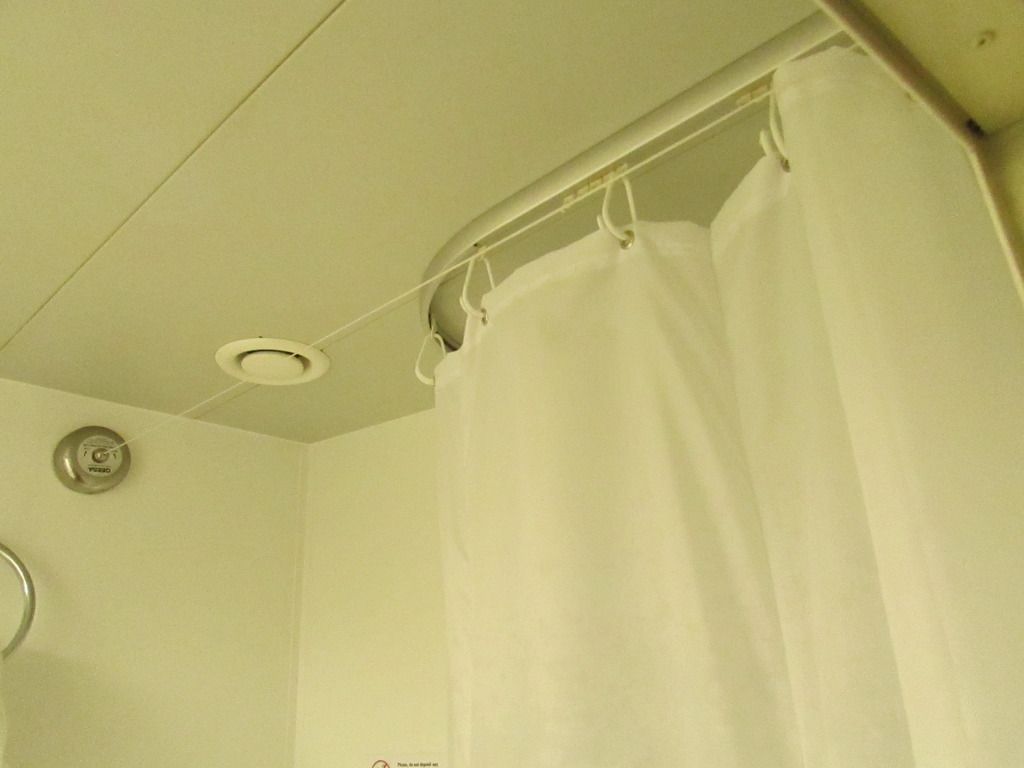 Conclusions
We were generally very happy with our cabin for the 13 night cruise but would not like to do a very long or world cruise in it. The bedding, furniture and carpeting were all in a generally good condition and our Filipino steward Rhande, pronounced 'Randy', was excellent and kept our room pristine.
The shower room was diabolical and needs to be refitted as soon as possible. Chris had less problems than I did with the shower, but I am by no means the largest of people and I cannot imagine how very rotund people would manage at all.
I was not very impressed that our Sea Passes, cabin door card and safe key were all clearly marked with our full cabin number as I considered this to be very lax security wise.
The cruise package included British Airways flights from Heathrow to Istanbul and from Athens back to Heathrow, plus transfers and included staff gratuities and, for the price we paid, we considered it to be very good value overall.