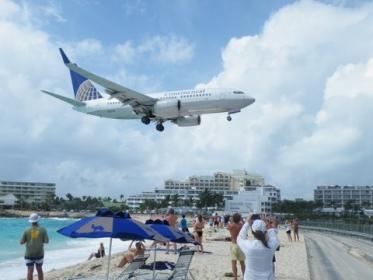 We chose this cruise due to its itinerary visit a port of call each day. It was a 7 day cruise from San Juan, Puerto Rico back to San Juan on the Carnival Victory. I would not recommend a port of call every day as the days at sea are great to recharge the batteries. In hindsight I needed just one sea day either the first or last day to recover.
Pre-cruise: We arrived in San Juan on a Continental flight from Newark at 12 midnight. We took a taxi to out hotel Quality Inn El Portal ($132.49 incl taxes per night). Taxi cost $14 plus $1 per bag. Checkin was easy and staff were very helpful. Free coffee in the lobby and in the room. Breakfast on the rooftop was complimentary and was very good for a continental breakfast - loads of everything and a great view and welcome breeze. A taxi to town was $17. We decided to take the bus for 75c. We were waiting for 15 minutes when two came along and took us to the Bus terminal opposite the cruise dock. Problem was that we had our cases. Kokonuts restaurant opposite pier 2 will stow your bags for $3 per day, well worth the money and frees you up to see the city. It also saves you time - can you imagine the cost of getting a taxi back to the hotel to collect the luggage and then back into town again - thats $51. We did it all for $7.50.
Embarkation:
Was a absolute breeze. We arrived at the port at 2PM and we had our 'Sail and Sign' cards an on the ship by 2.30PM. The Victory also allows passengers to embark in Barbados, these tend to be British passenger whereas North American passengers embark in San Juan. It is interesting to note that the Barbados to Barbados cruise is twice the price as the SJU to SJU cruise. I think Carnival have figured that Brits are willing to pay more than Americans for the same product and thus charge accordingly!!!!!!!
The Ship:
Carnival Victory is a huge ship with 14 decks. At maximum capacity it carried 3427 passengers and 1400 crew. That said at no time did the ship feel overcrowded. The ship had numerous lounges, an Irish Bar, casino, stores, photography outlets but no speciality restaurants. The ship had a poolside cinema, golf, water slide, 2 pools and 5 hot tubs. The Carribbean lounge was the theatre that spanned upwards over three floors - this was probably worst ship theatre I was in as the ground floor was on one level so you had trouble viewing between people's heads. On the upper decks there were numerous rails and supporting poles that obstructed your views. The gym was excellent with a huge range of equipment, however it was at the front of the ship - the windows were so low that you could not see out as you exercised. The sauna and steam room were free to use but we did not use the spa facilities.
The cabin:
We had an inside state room on deck 8. It was made up a a double bed but we asked the steward to separate them into and L-shape and it gave us far more room. The cabin was quite big with a reasonable bathroom where the shower did not soak everywhere. Towels were beautifully white, pressed and in plentiful supply. The cabin steward worked effortlessly tidying and making up the room everytime we left it - leaving the customary towel animals every night while we were at the show.
Dining:
The breakfast and lunch buffets were excellent. A sandwich bar, burger/hot dog joint, Chinese takeway were open until 1.00 am each day - therefore food was always available especially whe one returned from shore at 4.30PM missing the lunch buffet but too early for dinner. Dining was at 6.00 and 8.15PM - we opted for the latter. There was also anytime dining from 5.45 - 9.30PM. We were assigned to the Pacific lounge. The food was excellent and our waiters Tunc and Amornrat looked after us really well. The food was excellent and my wife fell in love with the warm chocolate melting cake and ice cream - it was far too heavy and chocolately for me. Steak was available every night and it was always cooked the way your requested it.
Entertainment:
Including the venue the shows were very poor. There was no show on night one which was understandable considering we did not set sail until 10PM but the sail away party was excellent thanks to Marcello the assistant cruise director who had a crazy sense of humour. The deck part on night 4 was good fun. The dancers put on two shows. This first was very American - featuring songs about each American state - it was OK only. The second show Vroom featured songs of the 50s, 60s and 70s, again it was only OK but the costumes were excellent. On the other nights we had a very wacky illusionist who embarrassed the audience rather than entertained - his performance was actually creepy. Another night we had a juggler and a comedian Percy Cruz. They were fun. The second night saw the Cruise Director mimicking singers like Elton John and Roy Orbison followed by an other comedian - he was funny even if bordering unpolitically correct. The final night we were 'entertained' by fellow passengers in a talent contest - the least said the better!!!
Ports of Call/Shore excursions
We did not do any of the ships tours as they were very expensive. We booked our own, however, we probably spent more each day but we packed more in on each day.
San Juan: We did our owh things here. We walked along the waterfront, visited El Morro and San Criostobal Fords ($3 each), had coffee in Plaza das Armas, went to chuch in the Cathedral, took loads of photos beofre emabarking on the ship.
St Thomas: After disembarkation we took the 2 minute walk to the Butterfly Farm ($15 each) where we spent 1.5 hours including a very informative 25 minute tour. This was a great spot, the butterflies were quite active and we saw one hatching from their chrysalis. Great experience. One landed on my wife so hopefully it will bring great luck as the guide predicted! We returned to the ship where Godfrey Tours took us to downtown Charlotte Amaile - guys if your wives are big into jewellery shopping - better to steer here in the other direction if you can - 200 shops on the main street!!! We were in town for 2 hours but did not do any shopping. We went up to Blackbeard's castle but were to mean to pay the $12 entry fee. To get to it you must climb the 99 steps (there are actually 103 - I counted!!!). On the way back you must visit the Britannia House - Mike the guide / minder was very informative and it was a real interesting visit - it takes no more than 20 minutes to see and the best part is that it is free!!! At noon Godfrey Tours collected us and we started the island tour. We climbed and climbed into the hills stopping at some great look outs to see the port and neighbouring islands. We then went to the Botanical Gardens ($2 entry) for views of Magen's beach and to visit the great house. We ended the day with a 2 hour stop in beautiful Coki Beach. Here you can swim, snorkel or visit Coral World ($21 entry - we did not go!). Godfrey dropped us back at the ship at 4PM for all aboard at 4.30PM. Godfrey supplied cold drinks all day. Tour cost $30 for six hours.
Dominica: This was our favourite trip. We booked a tour with Bumpiing Tours (not a mispelling there are 2 'ii' s). Levi met us at the dock. Alvin was our guide - he is a gem of a guy!!. We drove for 30 mins over rough bumpy roads (hence the name!!!) to start our 2 hour hike to Middleham Falls - it was beautiful. We did not go into the pool as I cannot swim - it is also hard to climb the rocks to it!!. The trail is rough but gets a bit slippery near the falls but it is very doable. Following the hike and complementary cold drinks we went to Titou Gorge. At the end of the Gorge are 2 Waterfalls - only problem you must swim to see them. This is where Alvin outshone - he held my hand and got me up the gorge and I paddled, swallowed water. The swim is only 2 minutes but the water is 10 feet deep. After that we drove to Tralfagar falls, these are two waterfalls - one hot and one cold that mix to form hot pools at their bases. We hiked for 15 minutes to get to them and we bathed in the hot pools. Then we returned to Roseau to drive through the Botanic Gardens where you can see a school bus flattened by a tree post a hurricane! The view of the ship and harbour from Mount Bruce was very nice. Alvin then dropped us in Roseau where we wndered around and visited the Cathedral and unintentionally walked into a funeral! The others in the Van went to Chamapagne reef to snorkel - they had minimal time there. Alvin dropped them back at the ship at 5PM for 5.30 all aboard. Tour cost $60 for 7 hours.
Barbados: We had booked a 9 am 3 hour snorkel with the Turtles and on the shipwrecks with Barbados Blue. We had then intended going to Harissons Cave on our own to pick up the 1.30PM tour. Barbados Blue lets us down. They did not have enough to make up a full tour and cancelled by email the day before. I did not get the mail. When I called they were less than apologetic. We then went in search on another tour. There were 6 ships in port so all Catamaran's were full, except El Tigre - they were fantastic! We sailed for 30 minutes, snorkelled with the Turtles for 40 minutes - we just saw two, but also saw rays and other fish. The fish aroung the reef and ship wreck (the second stop for 40 minutes) were amazing. We were dropped off in Holetown and bussed back to the ship. The crew on board were excellent - they gave me a life vest and life ring and guided me around the water. Drinks, rum punch, banana and coconut bread were served on board. Cost $60 for 4 hours. As we started our alternative tour an hour later and it was an hour longer - we were afraid to chance going to the caves. Instead we went into Bridgetown and walked around visiting the Cathedral and Synagogue and had a drink on the Waterfront.
St Lucia: We were undecided to travel with Cosol or Spencer Ambrose. When we saw that Cosol had over 70 participants and Spencer had only about 20 - our minds were quickly made up for us. That said Spencer acted a little unprofessionally. A group of 7 Chicagoans had booked a private tour, yet Spencer added my wife, one other and I to their vehicle. Luckily we all wanted to do more or less the same thing. The Americans wanted to do the mud baths and not the waterfall. We wanted to do the opposite. We forwent the waterfall and the baths were actually good fun. The batchs cost $5 abd gosh they were warm er ......I meat HOT!!!!!! When we left Castries we went to Morne look out to see the harbour and the ship - great view. We then had a view over Marigot bay and sampled some banana ketchup. We drove through some banana plantations and stooped to over look the fishing villages of Anse del Raye and Canaries. We then stopped at a little roadside place where we saw them make Cassava bread. We bought the Cherry and Raisin one ($3) - it was very tasty. On our way to Soufriere we stopped at a look out to see the Pitons. We then went to the drive in Volcano had a very humerous informative guide and then went and had our mud bath. We collected take out lunch in Soufriere (included in tour price) and took a water taxi to Jalousie Beach - between the Pitons. We lunched and swam for 1.5 hours beofre heading back to Soufriere. We then head straight back to the dock. There was no time to look around Castries. I had an argument with Spencer when it came to paying. The tour cost $65 but it included $5 entrance to the Waterfall that we did not visit. We paid an extra $5 for the baths. I thought one should cancel the other. We agreed to pay $60 for the tour. It was a great tour - there was awkwardness at the begining as we felt we were encroaching on another group's private tour. I am not sure if the masses on Cosol's tours would have taken way from the experience. I think we would still travel with Spencer! A drinks cooler full of water, beer, soft drinks and rum punch was available through out the day. Tour length - 7 hours. We were at the dock at 3.30PM for 4.30PM all aboard.
St Kitts: My wife and I did a private tour with Javin James of Myislands tours. This is a starter company. While Javin is a great guy, he needs to brush up a bit on his knowledge especially history. That said I would recommend to everybody to give him a chance - we really had a great day with him. He does really take you off the beaten track and takes care of you! We started with a orientation drive in Basseterre seeing the Picadilly clock look alike in the circus, the red phone boxes and cathedral in independence square. We then head to Brimstone Fortress ($8 entry) - we were first to arrive in the morning. The views were great (we could see Saba island) but Javin did not know much on the history. We then went to the Volcanic black rocks for views of Mount Liamuiga. After that we did a 1.5 hour hike up the Cayon Ghaut - we had the place to ourselves. The Ghaut was dry so not as dramatic as in the wet. The rocks are slippery and you will get your feet wet!! After the hike Javin provided us with Ginger beer, Guava and Mango juice and raisin and coconut pastries. We headed to a secluded stony beach to snorkel for an hour before heading to Cockleshell beach to see the views of Nevis and a huge lazy fat pig!!!!!! We drove back to Basseterre with great views of the island with the Caribbean on one side and the Atlantic on the other. Javin dropped us in Basseterre - we lunched on the ship and the looked around town! Cost $75 for 6 hours including snacks. Javin is engaged to a New Jersey girl. This American influence is seen in the pricier cost of the tour and also we had to sign waivers! How American is that!!
St Martin: We hired an ATV here and did our own thing! While it was fine, I would not recommend it as youare constantly clock gazing and wondering if there is enough time and a slight traffic jam gets your blood pressure up. Places are a lot nearer than you think and people exaggerate the time it takes to get from place to place. If you do this - do not forget your driving licence!! We drove to a little beach before Orient Bay for a swim. It is near the Butterfly farm and very quiet but nice. We did not spend much time in Orient Beach but yes the topless bathers were out in force, however we were lucky enough NOT to see the nudist octogenarians who were also out in force!! We then headed to Grand Case for a drink by the beach - nice spot. Marigot was a little chaotic with traffic - the market was nothing to write home about. We did not climb up to the fort as I thought we would miss the big planes in Maho beach (I was wrong - we had loads of time). We headed to Maho driving through condominiums - they have really wrecked the island! We spent 2 hours in Maho plane spotting - it was great! The only thing St Maarten has to offer in my opinion - see picture. We dropped the ATV back at 3.30PM, looked around Phillipsburg (not much to see save the Courthouse Building) for 45 mins before 4.30PM all aboard. Cost $108 plus $5 fuel.
Disembarkation: Very easy but they do kick you off very early - no hanging around until 11AM. We took a taxi to the Airport - $20.
Quality of Food 5
Excellent. Loved the Turkey and Jalapeno wraps in the sandwich bar. My wife loved the warm chocolate melting cake in the pacific dining room.
Entertainment 2
Shows were rather poor but the sail way and deck parties were fun! Our waiters danced each night for us before offering us dessert - quite entertaining and different!
Shore Excursions n/a
Did not take the ship organised excursions as better value for money ones were available locally, in addition I prefer to leave my money to support the local economy rather than large corporations.
Staff 5
Our cabin steward (Babb - Costa Rica) and our waiters (Tunc - Turkey and Amornrat - Thailand).
Children's Facilities n/a
Onboard Activities n/a
As this was very port intensive we did not partake in the usual bingo, ice carving, towel folding activities that go on.
Cabins 5
Once the beds were configured in an L-shape, there was loads of room. The cruiseline provided razors, toothpaste in the bathroom - something I have not seen before. While they are normally available - one usually has to ask for them.
Overall Rating 5